September 24, 2020
Though a trip to ECOS Institute is a big step  in a student's education, it's only one of many steps in a lifetime of learning. We're helping support that longer journey by providing curriculum that can be used beyond our campus.  The curriculum is designed with distance learning in mind. All lesson are accompanied with printable materials and supporting videos. The end result is a collection of "plug and play" lessons that are simple enough for students to do with little to no adult guidance.  To give ask questions or give feedback, email classroom@ecosinstitute.com.
ECOS Printables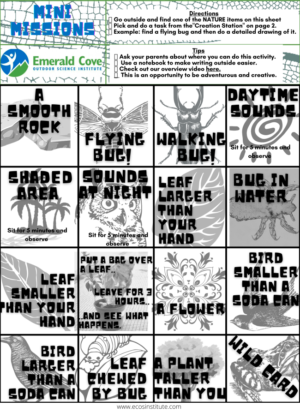 This simple set of activities is designed to get kids offline, outdoors and into the natural world around them. Start with our "Mini Missions" printable and then do a "Creation Station" activity with the item found.  Though the activity is simple enough to print(or download) and go, we've provided supporting videos to provide deeper explanations of how the activities work.
Click here to download the printables
Click here to see the video playlist
SoCal Water and Conservation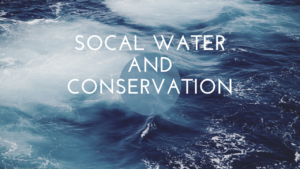 We took our morning program powerpoint addressing the Santa Ana River watershed and Environmental Principles and Concepts (E,P & Cs) and spiced it up beyond recognition.  This lesson combines an 8 minute video/ 2 pg. worksheet, would take about 30 minutes for a student to complete and requires little to no instruction on your part.
https://www.youtube.com/watch?v=cBTeoi1nCPY&t=73s
Worksheet 
https://docs.google.com/document/d/1m7nkKqN89MktqR0gnJ0an925dzRSkgbvYQoPiZN2_Zs/edit?usp=sharing

Steelhead Trout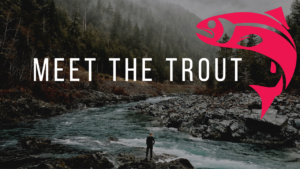 We've probably all seen footage of adult salmon swimming upstream, returning from the ocean to their freshwater birthplace.  The footage is usually from Alaska right?  But did you know that there's a species of salmonid, the steelhead trout, that does that right here in Southern California?
In this 5 part lesson series students will:
Learn about the natural history of 

steelhead

 trout.
Research the habitat needs of 

steelhead

 trout.
Observe current trout habitat in Southern California using Google Maps.
Analyze human impact on 

steelhead

 habitat and identify personal actions that can be taken to help conserve 

steelhead

 habitat.
All direct instruction is provided through a Youtube playlist and student work is done on an attached worksheet.  The "answers" to the worksheet questions are discussed in a debrief video for each section, making the whole lesson plan "plug and play" with little required by the teacher.
Video Playlist:  https://www.youtube.com/playlist?list=PLJDkokRsJraJ4MxZU6bQMOg2t1fBnhgl_
Teacher Guide. https://docs.google.com/document/d/1qBorvDcvbtArKlsNP-jw5_6zF_p65TUboH97jWW7Bmg/edit?usp=sharing
Student Worksheet https://docs.google.com/document/d/1URBW6HoLnV7U-FekNM6oU4TM3PBwEn1lbAvX13IaVUU/edit?usp=sharing
Plant Reproduction
Why just talk about plant reproduction when you can watch it happen before your own eyes? This lesson will teach your students how to harvest some local landscaping and use up-cycled food containers to make their own potted plants.  The lesson includes:
An NGSS-aligned lesson plan
A Google Slides presentation
A video lesson on how to create your own potted plant.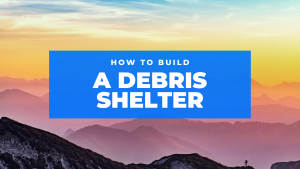 Shelter Building
Get your students motivated to participate in an ECOS classic–shelter building.  The attached video features some of the ECOS crew members walking you through the basics of how to build a debris hut. If students don't have access to nature they can always modify this to a stay-at-home classic–sofa forts!
Live Streaming to The Mountains
Want us to do a live exploration or experiment from the mountains?  We recently did this with Mrs. Lippincott from Our Lady of Fatima, performing an experiment pertaining to tree transpiration. You can invite us to join your on-line platform, such as zoom, and we will be happy to fit it into our schedule!
You know when you ask the bagger at the grocery store help you to your car and they seem really excited to get outside? That's the way we feel….I'll be sending out a second installment next week, and they will be posted on our website blog soon.
Follow us on facebook for the latest news and lessons (you can see Running Springs in the snow!).  Thank you for being valued customers.